Recently Released Reports
In 2018, we sent out a survey to registered nurses in the United States.
Why did we create the survey?
The data helps us understand current health care challenges. And it helps us predict what nurses will need in the future.
Can I review the survey?
Yes. Check it out: 2018 National Sample Survey of Registered Nurses (PDF - 906 KB).*
How many nurses took the survey?
Over 50,000 registered nurses completed it.
What were your findings?
2018 Key Findings
General
There are an estimated 3,957,661 licensed registered nurses. In 2017, roughly 83% (3,272,872 RNs) held a nursing-related job.
Average Age
Registered Nurses (RNs) were 50 years old on average. Most nurses (53%) were younger than 50.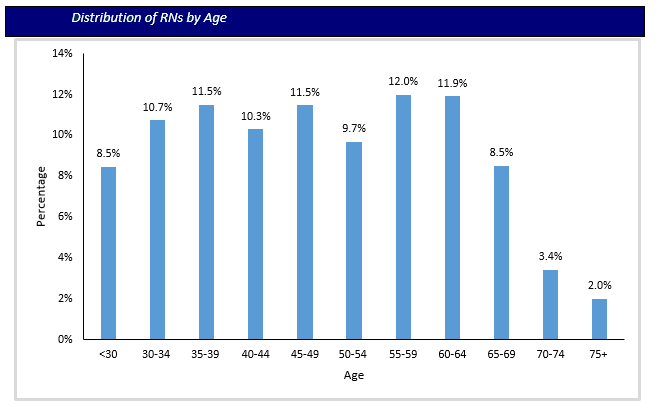 View detailed description.
Diversity
Nurses are more diverse today than in the 2008 NSSRN study. Minority groups and men have seen a slight increase within the RN population.
Education
Most of the RN workforce has received a bachelor's degree or higher (63.9%). Of them, nurses with a master's or doctorate degree accounted for 19.3%.
Advanced Practice RNs were approximately 11.5% of the nursing workforce.
Telehealth
32.9% reported that their workplace can provide telehealth. Among them, 50.3% used telehealth in their practice.
Earnings
Median earnings for full-time RNs was $73,929. Part-time RNs earned a median amount of $39,985.
How is the 2018 survey different than the 2008 survey?
In 2018, participants could take the survey online or by mail.
And we included questions from the National Sample Survey of Nurse Practitioners (NSSNP). The combined results give us a wider look at the national nursing workforce.
Can I contact you with questions about the survey?
Yes, you can email us.
Where can I review more nursing data?
Visit the Data Warehouse for Nursing Workforce Survey Data. Find data on registered nurses from 1977 - 2018 and nurse practiotioners from our 2012 survey.
*If you use assistive technology, you may not be able to access information in this file. For help, call 1-800-221-9393 (TTY: 877-897-9910), 8 a.m.-8 p.m. ET weekdays (except federal holidays).