After you accept a job offer, you will need to:
Notify your analyst when you accept an offer and provide the anticipated start date.
Collect the three required documents you will need to upload to the BHW Customer Service Portal:

Current RN or NP license (or screenshot of the state licensure verification website), showing name, license number, discipline, issuance date and expiration date.
Offer letter on letterhead that contains:

Hiring official's signature
Start date
Position title
Specific number of hours per week
Site name(s) and physical address of the location(s) where you will work

Confirmation that you accepted the offer, such as a signed acceptance letter, signed contract, or acknowledged acceptance in an email to the hiring official. A completed, Confirmation of Employment Offer Form

(PDF - 333 KB)

also fulfills this requirement.
Upload required documents in the BHW Customer Service Portal
On the home page, under Activities, select Begin My Site Search to display the Site Search Support page.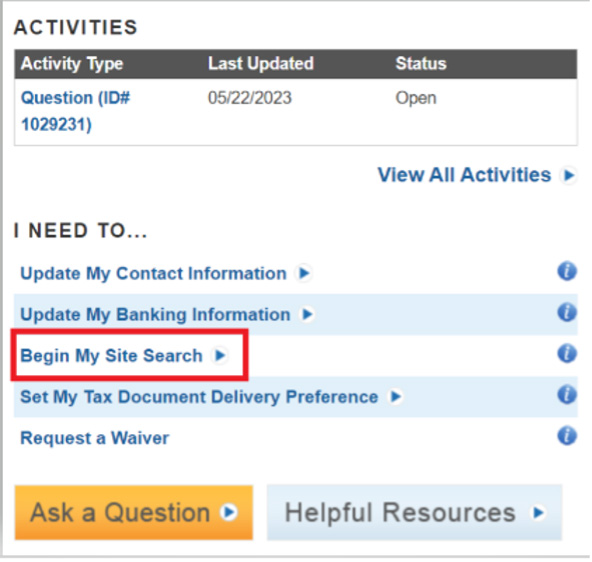 On the Site Search Support page, go to the Documents section. Use the Upload button to upload the three required documents.

Only your License, Offer Letter and Signed Offer Acceptance Letter need to be uploaded.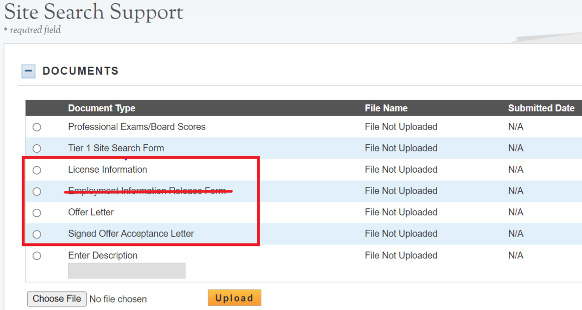 For portal technical issues please contact the Customer Care Center at 1-800-221-9393, Monday-Friday between 8:00 a.m. and 8:00 p.m. ET.
On your start date
Use the BHW Customer Service Portal to send a message to your analyst on your start date. The analyst will then send the site point of contact an electronic Employment Verification Form that must be completed in the portal.
After the Site Status Change Request and Employment Verification Form are complete, the Nurse Corps Monitoring and Transition Team will approve your placement. Note that approval can take several weeks. When approval is completed, your status in the BHW Customer Service Portal changes to "In Service." Your analyst will notify you when your status changes and the Transition to Service process is complete. Service credit will be backdated to your start date after you are placed In Service.
After you are in service
Now that you are in service, the Division of Participant Support and Compliance (DPSC) assumes all oversight activities during your service obligation.
If you have questions or need assistance, contact them directly by:
Asking a question in your BHW Customer Portal account
Calling the BHW Call Center at 800-221-9393 (for TTY hearing impaired 877-897-9910)
E-mailing GetHelp@hrsa.gov
Suspensions, waivers, and deferments
If you are unable to begin service, immediately notify your analyst. You must submit suspension, waiver, or deferment requests in these circumstances. Analysts cannot submit requests on your behalf.
Submit your request through the BHW Customer Service Portal, with full medical, education, and/or financial information. Refer to the Nurse Corps Scholarship Application Program Guide (PDF - 771 KB) for required documentation for each request type.
Suspensions
Medical or Personal Hardship
Parental
Call to Active Duty in the Armed Forces
Waiver
Granted in extreme hardship and rarely approved.
Deferments for Post-Graduate Training or Residency
You may request up to an 18-month deferment to complete post-graduate training or residency approved by the Nurse Corps Scholarship Program. You have three months to begin employment after completing a residency.
To submit a post-graduate training or residency request, upload an official letter, on letterhead, from the residency director that includes the start and completion dates for the program.
If you are a registered nurse or nurse practitioner who completes post-graduate training at an eligible Critical Service Facility located in a HPSA with a score of 14 or higher, you will receive service credit and do not need to request a deferment.
Frequently asked questions
How do I terminate a contract?

To terminate a Nurse Corps Scholarship Program contract, submit a written request through the BHW Customer Service Portal for an academic year before June 1 of the school year AND repay all amounts received including pre-tax tuition, stipends, and other reasonable costs.

What happens if I breach the Nurse Corps contract?

If you breach the contract, you will be placed in default and liable to the federal government to repay all funds paid to you or on your behalf and pay interest on such amounts at the maximum legal prevailing rate from the date of default. The amount owed, including interest, must be repaid within three years of the date of your default.

Can I apply for a transfer requests?

If you do not wish to continue working at your first place of employment, you may transfer to another Nurse Corps location to complete your service obligation. Submit a request in the BHW Customer Service Portal for review and approval. Do not leave your current employment until you receive approval from Nurse Corps.

Can I apply for other loan repayment programs?

After you fulfill your Nurse Corps Scholarship Program service commitment, you are eligible to apply for and participate in additional loan repayment programs.
Contact us
Call 1-800-221-9393
(TTY: 1-877-897-9910) M – F, 8 a.m. – 8 p.m. ET
(except federal holidays)
Email us or GetHelp@hrsa.gov
BHW Customer Service Portal, select Ask a Question